At a Glance
Expert's Rating
Pros
Two-way firewall
Good performance
Cons
Mac-specific (no version for Windows / Android)
Our Verdict
Intego Mac Internet Security X9 offers a useful set of security utilities that help keep your Mac safe and running smoothly. It's a little tricky to set up but its user-friendly interface is right at home with Apple's macOS aesthetic.
Among Mac users, the antivirus scanner Virus Barrier from Intego is well known as one of the first virus scanners on the Mac.
Intego's Mac Internet Security X9 is a bundle of two security tools: VirusBarrier X9 and NetBarrier X9. The job of the first is self-explanatory but the second is a two-way firewall, a component you don't often see included with security software at this sort of price. Together they promise a high level of protection against direct and indirect unwanted software and malware threats.
The application is often available with a discount, you can get the best deal by following this link for Mac Internet Security at $24.99/£23.99 for the first year, after which the usual price is $49.99/£49.99 per year. You can also purchase Intego Mac Premium Bundle X9 for $39.99/£33.99 for the first year (with a normal retail price of $84.99/£84.99). This includes other tools such as the Mac Washing Machine X9 system cleaning app, ContentBarrier X9 for parental control, and Personal Backup 10.9.
We have tested all the best Mac antivirus software options in our round-up of the Best antivirus software for Mac.
Features
What VirusBarrier X9 does is fairly comprehensive: It can scan every file on any connected disk, including within compressed archives, and it can scan emails and connected iOS devices. Suspicious files are quarantined, and these can then be marked as trusted, left quarantined or a repair attempt can be made. Repairs may leave the original file usable or it may remove all its data if it's entirely malware, but it did a sterling job of finding threats on our testbed Mac.
With a virus scanner, the quality of virus detection is crucial, but it's not only protection against Mac viruses that matters, Windows viruses should also be detected as an important function of the Mac scanner. Annoying adware—such as a malicious program that redirects your browser to advertising pages—should also be tracked down. Intego does all of this, with the detection of Windows viruses improving a lot in recent years. Malware definitions are updated frequently and can be installed automatically.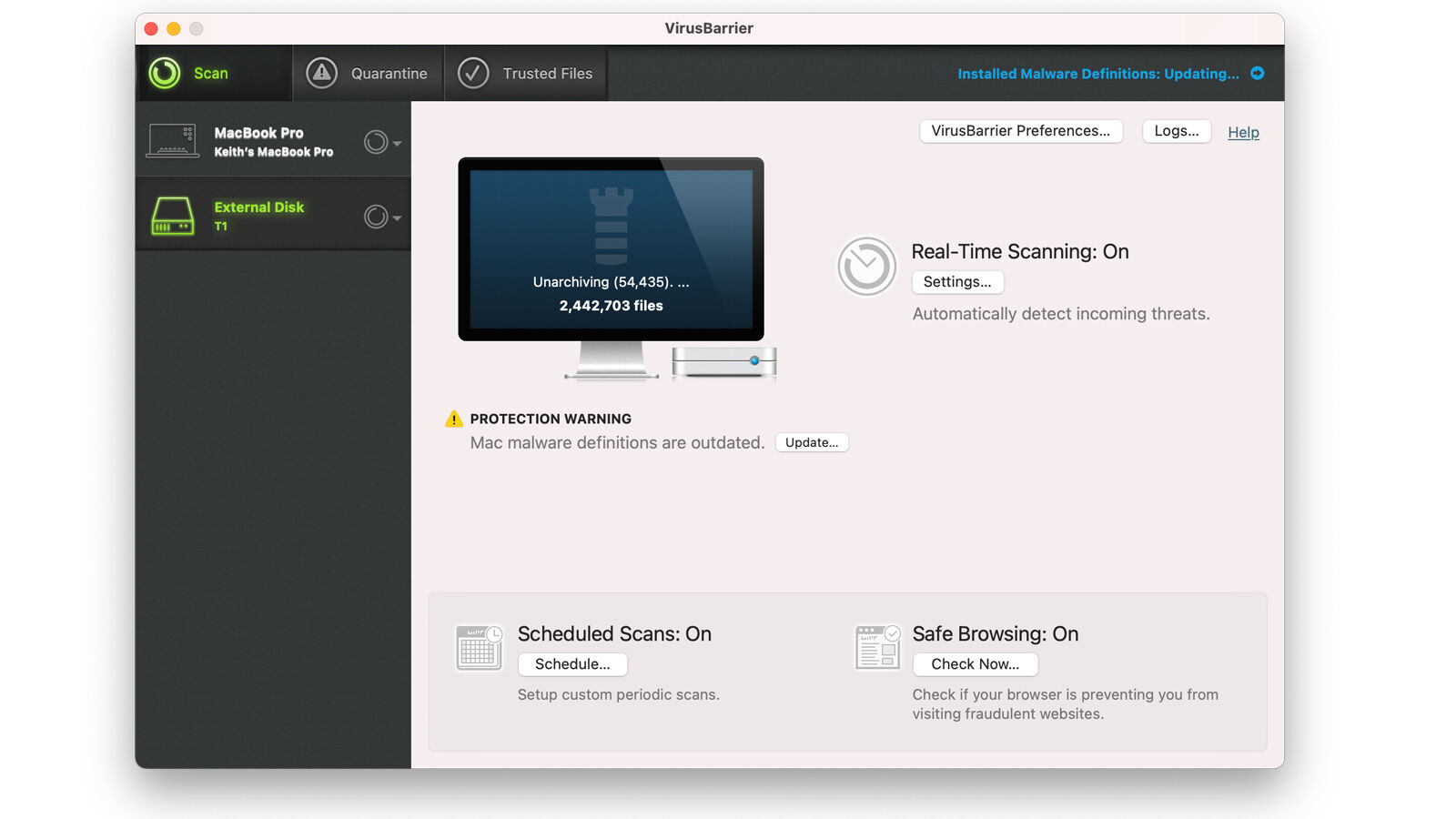 Unlike other apps, Intego does not offer functions such as VPN or identity protection.
Intego's NetBarrier is the other part of the Internet Security suite. In our testing, it proved very effective at monitoring and flagging all attempts to communicate out as well as in; it's a two-way firewall that monitors for 'phone home' attempts as well as intrusions.
You'll be surprised at how much of this network chatter goes on. Adobe Creative Cloud was expected, but even Apple's Pages wanted to have remote conversations. The vast majority of this is entirely legitimate, but attempts are flagged and you can choose whether to allow them or not.
We wished there was background information on the connection attempts—sometimes process names can be decidedly alarmingly named despite being on-the-level. Having said this, the configuration options are really clear, and once you've sorted out what you're happy to give a free pass to it's a very useful and unobtrusive networking safety tool.
Performance
In the June 2023 test by AV-Comparatives, Intego's Virus Barrier received an "Approved" rating and showed top-notch performance results compared to previous years. According to AV-Comparitives, the app detected 99.4 percent of Mac malware, 97 percent of PUAs (Potentially Unwanted Programs) and 100 percent of Windows viruses, so it can be recommended without restriction. Other solutions beat Intego in AV-Comparatives' league table, including Avast, AVG, and Trend Micro, but we have reasons to prefer Intego to those options, which tend to be lacking in other areas that we feel are important (such as incessantly advertised upgrades and missing features).
VirusBarrier caught all our malware and "uninvited software" samples including ones for other platforms. We were also warned when we opened a disk image with a malicious installer.
Installation and usability
The installation of any virus scanner is cumbersome, and Intego is no different. In order to check files, the virus scanner must install some background programs and requires access to the file system—both are protected by macOS Ventura, so the user must expressly allow this. During installation, you must grant the installation of the extension via the Security & Privacy tab in System Settings, and you must allow hard disk access. You are, at least, walked through these steps.
The additionally installed firewall Netbarrier must also be granted permissions via System Settings. If you want to uninstall NetBarrier or VirusBarrier, a special uninstall program is required, which can be found in the installation package.
Once VirusBarrier is installed you're asked to pick your level of coverage. The options are Minimum, which looks for Mac-specific threats and malicious scripts; Standard, which monitors emails and looks for threats for any platform; and Maximum, which adds scanning of attached iOS devices. You can pick and choose the details whichever level you select as these three options are essentially shortcuts to different sets of configurations.
Virus scanners have a reputation for severely slowing down a Mac. This is probably because all file actions are monitored by the protection software, including the copying of large files. However, in our experience, this is hardly noticeable on a Mac with SSD. Indeed, the current version of Virusbarrier tested by us had no noticeable influence on system performance in our test.
Performing a complete hard disk scan does take a while the first time this is run, but how long this takes depends on the size of your disk and the number of files and compressed archives that need to be examined; from 30 minutes to over an hour proved to be quite normal. Performance wasn't noticeably affected in our tests, but if that happens to you there's a "low priority" scanning choice in its preferences to reduce its processor use. That makes scanning take longer, but it's there as an option. Further scans are just on new items and generally take a minute or less to run.
For ongoing protection, VirusBarrier will monitor for new volumes being mounted and optionally scan them automatically, and you can drag volumes, folders and individual files into the main window for spot checks.
In general, the tool offers good compatibility with macOS, and unlike some of the competitors, it matches Apple's macOS aesthetic.
Price & Availability
Intego Mac Internet Security X9 costs £49.99/$49.99 per year (currently discounted to £20.99/$24.99 if you follow this link for the first year). It provides VirusBarrier X9 and NetBarrier X9, two very useful security tools which protect one Mac device.
Get Intego Mac Internet Security X9
If you have multiple Macs, don't worry: you can select three or five devices at the checkout, and it doesn't cost much more, and it also gives Intego a better value per Mac. Plus you can also choose to get two years of protection at an even more discounted price.
In addition, there are other paid security tools that Intego offers as a complete package called Mac Premium Bundle. This also includes the Mac Washing Machine, the parental control program Content Barrier, and the backup software Personal Backup. The full Mac Premium Bundle X9 which costs $84.99/£84.99 per year ($39.99/£33.99 initially).
As well as the core VirusBarrier and NetBarrier utilities this bundle includes three other tools as well: Mac Washing Machine X9 (for removing clutter and optimising your Mac's performance), ContentBarrier X9 (for tailored user access restrictions to inappropriate content), and Personal Backup 10.9. The backup utility has benefits not offered by Time Machine, including scheduled backup times and file synching between two Macs. You should all have Time Machine set up anyway, but this is worth adding to your safety net.
A free and highly function-reduced version of the virus scanner is also available in the Mac App Store. If you only occasionally want to check your computer for malware, an interesting alternative to a full-fledged real-time scanner.
Intego Mac Internet Security X9 is our number-one pick in our roundup of the best Mac antivirus software. You can also read about other packages we've reviewed in that test.