At a glance
Expert's Rating
Pros
Good speed and level of scan customization
Capable of locating viruses and malware in all files, including compressed archives
Cons
Non-functional "Reveal in Finder" button leaves the user to go digging for infected/quarantined files
Long-standing lack of version updates and the clunky interface makes the app feel like a semi-abandoned part of the Bitdefender product family
Our Verdict

There's no shortage of good antiviral tools for the macOS these days, and Bitdefender Virus Scanner stands as one of a growing catalog of tools that can help prevent and clear out malware on your Mac, and best of all, it's free.
There's no shortage of good antiviral tools for the macOS these days, and Bitdefender Virus Scanner (version 3.17 at the time of this review) stands as one of a growing catalog of tools that can help prevent and clear out malware on your Mac.
We have tested all the best Mac antivirus software options in our round-up of the Best antivirus software for Mac.
Installation and features
The software, which can be easily snagged and installed via this Mac App Store link is as easy to download and install as you'd expect, and after granting it access to your security settings in System Preferences as well as full disk access, is ready to go.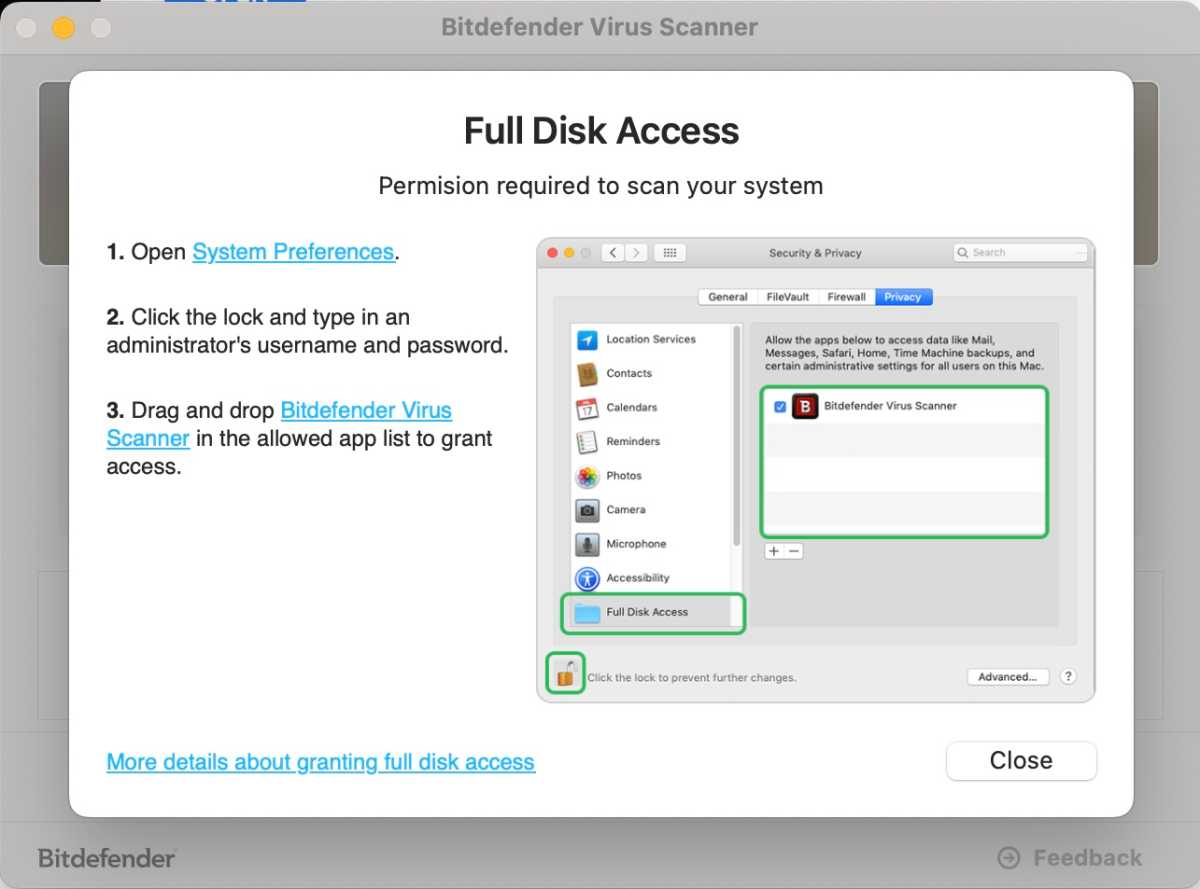 Foundry
Once installed, Bitdefender Virus Scanner offers Quick Scan, Deep Scan, and custom location scan options, which allow for a quick overview scan of critical components, a deep scan of every file and archive on your drive, and the ability to scan custom folders or external volumes as needed. Start a scan and the application will update its virus definitions over the Internet and get underway.
The Quick Scan feature is speedy, and testing led to the discovery of small documents the app claimed were a threat under "Worm.Generic.24461." A Deep Scan of my MacBook Pro's 1TB SSD required 55 minutes and 44 seconds to complete the full scan, but noted traces of a "Trojan.HTML.Bankfraud.A" piece of malware in an old email archive, which proved impressive. Add an ample degree of customization that can be established within the application's settings as well as actions that can be taken, locations that can be exempted from being scanned, and file size limits that can be established from being scanned, and this works out well.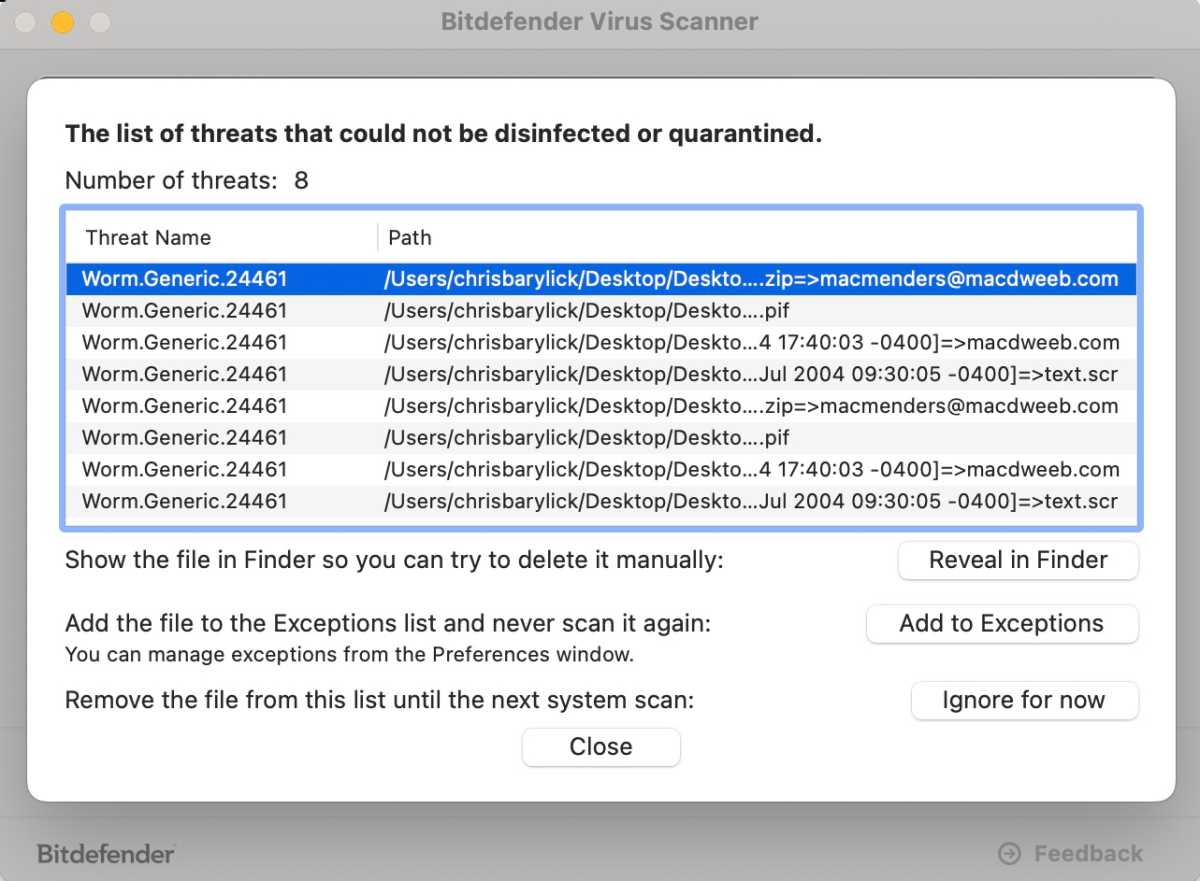 Foundry
Limitations
Unfortunately, there are some significant caveats to consider. While Bitdefender Virus Scanner can locate, quarantine, and delete malware, there were instances in which the application was unable to delete infected files and instead held them in quarantine. A "Reveal in Finder" button did nothing when clicked and offered no easy way to delete the infected files, leaving the user to go hunting for them. The fact that the application doesn't offer a running count of the number of infected files as it scanned a volume proved irritating, even though the software offers a complete total once the scan is complete.
The free app was able to locate and isolate most of the malware it found, although it still left traces behind that needed to be manually hunted down and deleted, and the non-functional "Reveal in Finder" option stuck out like a sore thumb when one would expect it to work.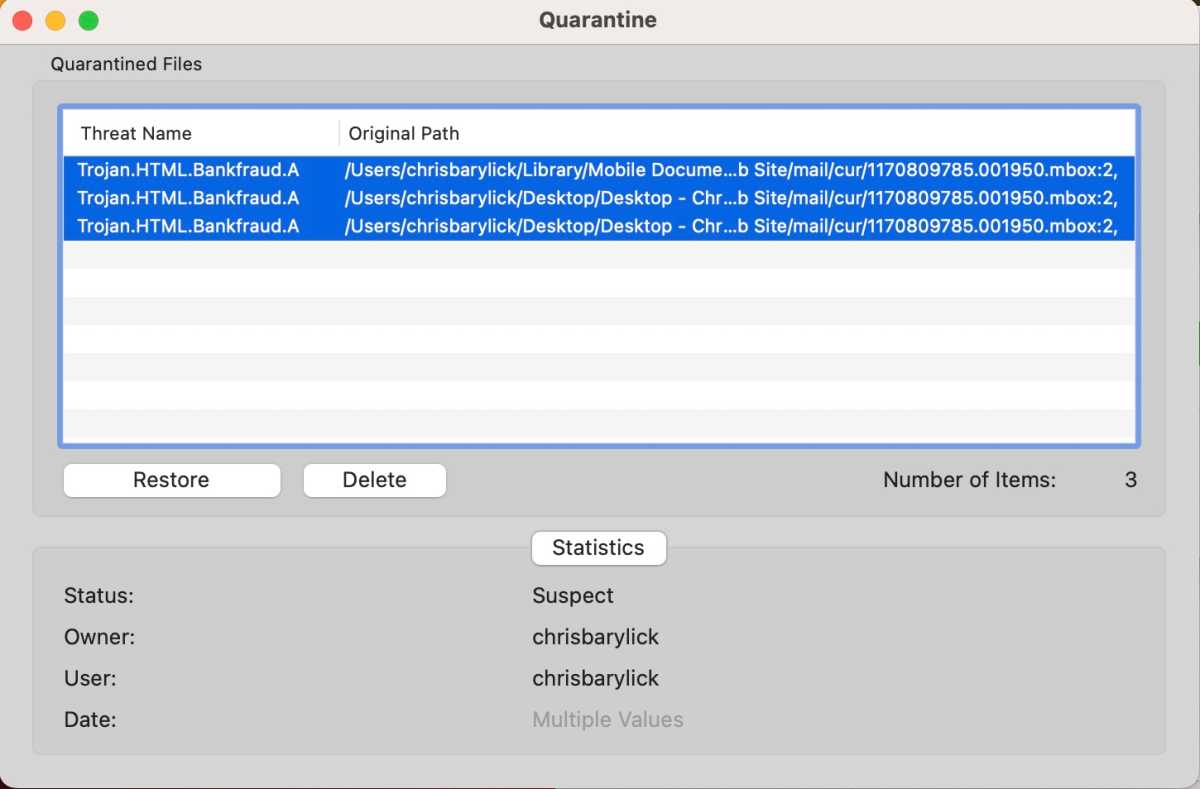 Foundry
Like almost every antiviral application on the market, Bitdefender Virus Scanner is available as a free version that must be manually run, but can automatically run in the background with its Bitdefender Autopilot feature once a subscription to Bitdefender Antivirus for Mac (read our review) has been purchased. At the time of this writing, the company is asking for an annual subscription fee of $19.99 / £24.98 for the first year for one user (it renews at a higher price.) We have also reviewed Bitdefender Total Security, which will protect a Mac, PC, iOS and Android device.
After spending time with this version, it's a difficult argument to make for the subscription of Bitdefender Antivirus for Mac, especially if there are multiple Macs in a given home or office environment.
Yes, there's a solid, long-standing company behind this product, but when a core feature doesn't work and the latest update for the software was released one year ago to add optimization for Apple's M1 processor as well as generic bug fixes, it makes one wonder how much attention is really paid to the product by its developer. Until then, there are other viable antiviral programs for the macOS worth your consideration, and while this performs well, a seeming lack of attention and polish prevents Bitdefender Virus Scanner from standing out from the pack.
Verdict
Bitdefender's free Virus Scanner is available on the Mac App Store, which should offer some peace of mind. You'll need to pay for Bitdefender's Antivirus for Mac if you don't want to be responsible for running scans, but if you just want an extra layer of protection and you don't want to pay for a full antivirus product then Bitdefender's free Virus Scanner is a good option.