Portable power banks that charge your phone are popular, but wireless battery packs using Apple's MagSafe technology offer a simpler and smarter cable-free solution for iPhone 12, 13 and 14 users.
Phone batteries are prone to run dry just when you're heading away from a power source, so having a portable charging source is one of today's necessities. Annoyingly, most power banks require you to carry around a cable, too.
Wireless power banks do away with cables but come with their own major limitation–the inefficiency of wireless charging means you need a high-capacity power bank to fully charge a drained iPhone.
I use one as a quick bedside iPhone charger so I can charge and use the phone at the same time without having to worry about cable length. And of course I carry one around with me in my bag for on-the-move recharging.
MagSafe is a technology that's compatible with all iPhone 12, 13 and 14 models, from the mini to the Pro Max. It allows accessories to connect magnetically to the back of the iPhone.
The MagSafe connection is precise enough to make wireless charging more efficient as around 20% of Qi power loss is from poor placement of a phone and the wireless charging pad. WStandard Qi wireless charging can lose as much as 50% of the portable battery's power, MagSafe wireless charging loses 'just' 30%.
While it's not as efficient as using a cable to charge a phone, MagSafe is a tech that brings true wireless charging a step closer to doing away with cables altogether.
We have tested the best MagSafe chargers to find which is the right one for you and your iPhone. Here we have tested the best MagSafe battery packs.
Certified MagSafe or MagSafe compatible
Not all are officially certified MagSafe by Apple but we've included only those MagSafe-compatible battery packs that work as efficiently as the "Made for MagSafe" models. Official certification is more important for wired MagSafe chargers as the 15W charging power of MagSafe-certified chargers beats the 7.5W maximum for mere MagSafe-compatible accessories.
In comparison, the portable battery packs tested here can't reach 15W, except those that can be charged simultaneously by wire and wireless, as the Apple MagSafe Battery Pack can.
We have listed the speeds at which each portable power bank can be charged itself (Input charger) and charge the iPhone (Output charger).
We've also included a few alternative non-magnetic options, including standard power banks and battery cases. MagSafe is cool but it isn't always the best option.
After the list of our favorites, you'll find more details on how MagSafe works and why you should be looking at a power bank's capacity in Watt Hours rather than the mostly quoted Milliamp Hours.
How we tested
MagSafe charger testing was conducted using an iPhone 13 Pro, subscribed to a 5G network and WiFi, with screen off and all default settings.
Our test is a simple battery recharge shootout. We let our test-unit iPhone 13 Pro (3,095mAh battery capacity) drain to just 5% and then set the Battery Pack to work recharging the phone.
We then assigned the charger a score of whatever percentage it managed to charge the iPhone to and subtract the 5%; we test each model at least twice.
It's not a real-world test of day-to-day use where you'll likely be using your phone for various tasks (of varying battery usage) and in different environmental conditions and network configurations.
But it does give us a common score format that we can use to compare different battery-pack models.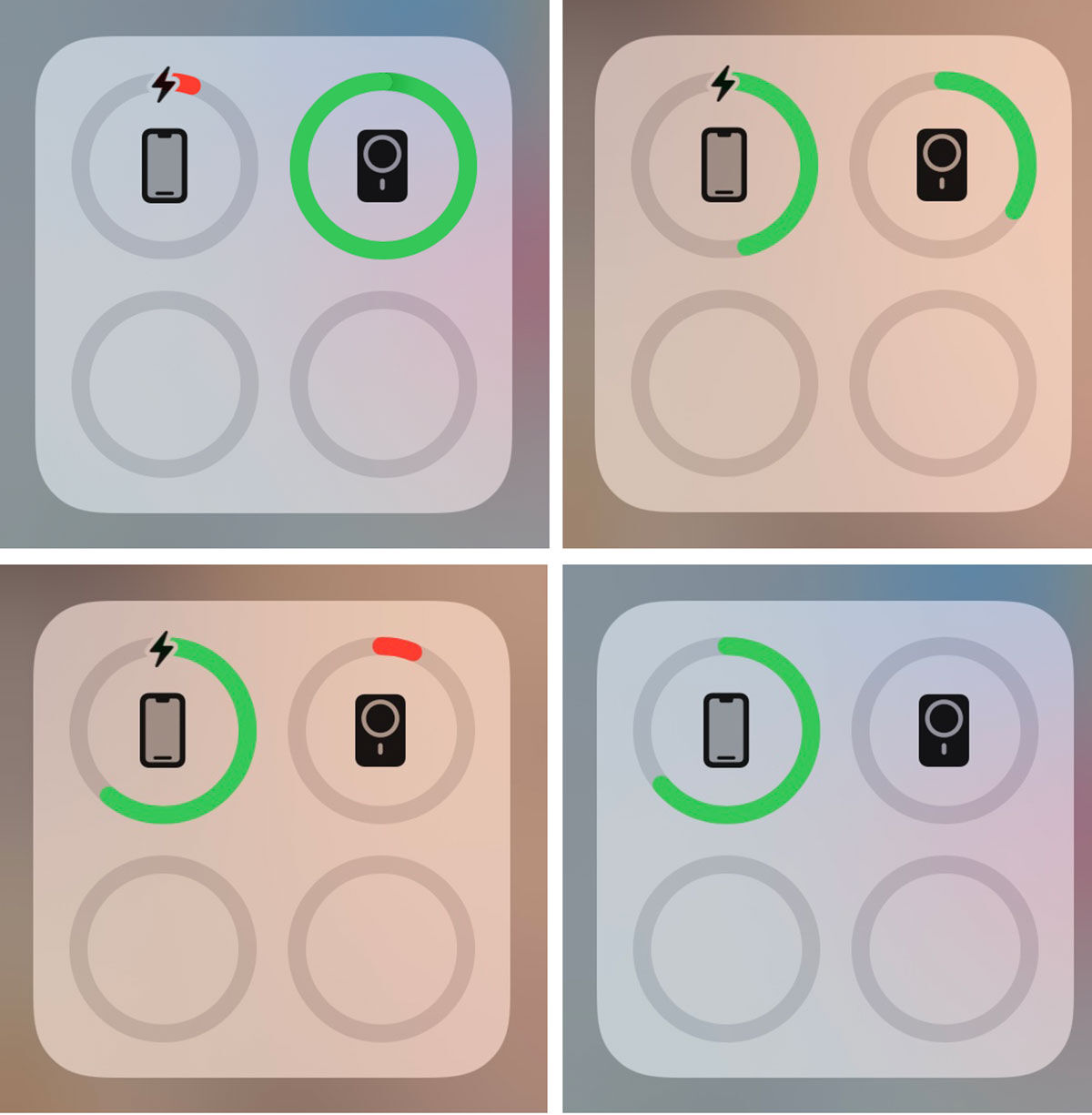 Why comparing Watt Hours are better than Milliamp Hours
Phone batteries are generally rated in Milliamp Hours (mAh) but this is a measure of electrical charge, while a Watt Hour is equal to one watt of energy consumed for one hour of time.
When comparing battery capacities and how much a power pack will boost a phone's internal battery, energy is more important than electrical charge.
And mAh ignores a battery voltage, which determines the wattage (power) of a battery.
If the mAh is the same, the higher the voltage, the greater the actual stored power.
For example, Apple's MagSafe Battery Pack is rated at just 1,460mAh but it has a higher voltage potential (7.62V) than the iPhone (3.81V) or other battery packs, meaning that it can provide more power to an iPhone than its mAh suggests; in fact, it is actually 2,920mAh.
To go into further depth about this read our feature iPhone battery capacities compared that also lists all iPhones battery life in mAh and Wh.